How it Works
Our events structure provides handicapped golfers with tournaments that are based on our revolutionary sudden death format… where the aim is to "Beat the Burglar".
Each days play climaxes in a two hole playoff  where the winner of the day is determined in front of large gallery of the days participants. It is the only amateur event world wide that can can come close to recreating a professional tournament atmosphere.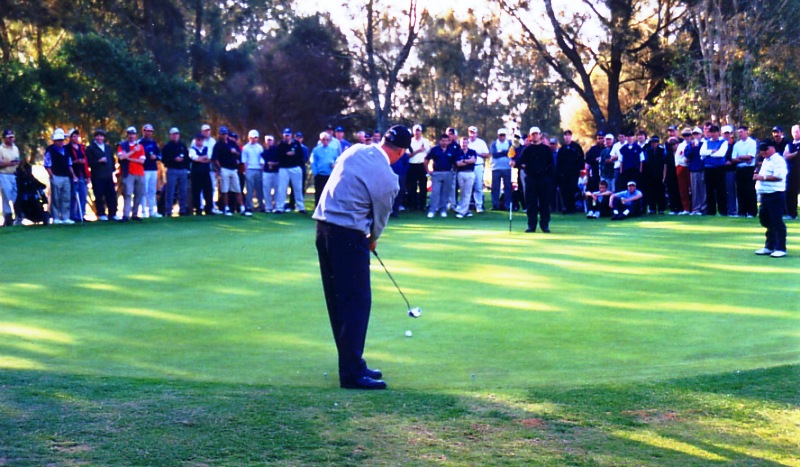 What is the Shootout?
A single stableford handicap event with a twist
A tournament for golfers looking for something just a little different from their 18 holes.
The SHOOTOUT is a golfing event that plays no favourites. On any given day, man, woman, a, b, or c grader all have the opportunity to become a SHOOTOUT champion. 
Can you handle the pressure of a gallery? The SHOOTOUT will let you find out. Test yourself under the SHOOTOUT format and see how you stand up to what the pro's face daily.
How does it work?
A shotgun start will start the day with all participants competing in a single stableford event using A.G.U. handicaps.
At the end of the round all players go to a designated tee where a super six draw occurs.
The draw involves six holes being drawn at random with the eight players with highest stableford score on those holes will then participate in a two hole sudden death SHOOTOUT.
During the SHOOTOUT a Putt-off will decide any ties for any positions.
The first hole of the SHOOTOUT will have eight people teeing off with the players with the highest stableford score using their handicap to progress to the final playoff hole (scores to do not progress).
The final hole will then have those three players competing with the player with the highest stableford score becoming the SHOOTOUT Champion. Again any ties will deceided with a putt-off.